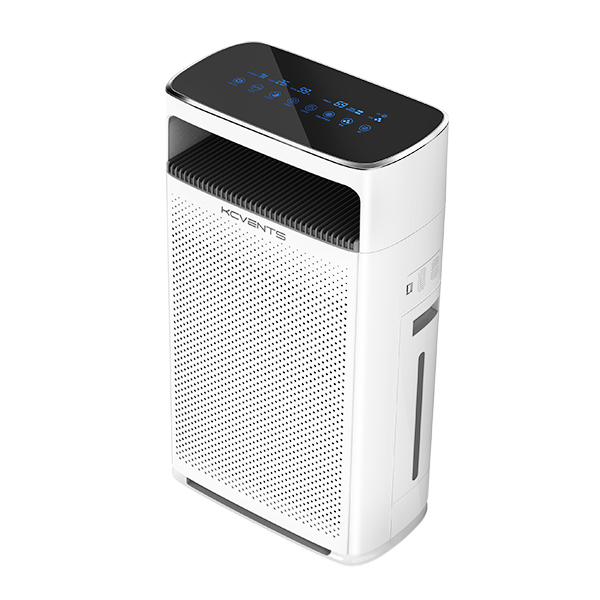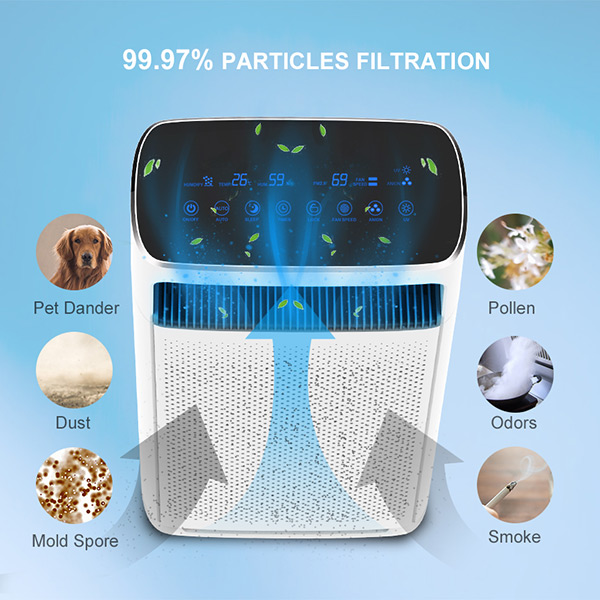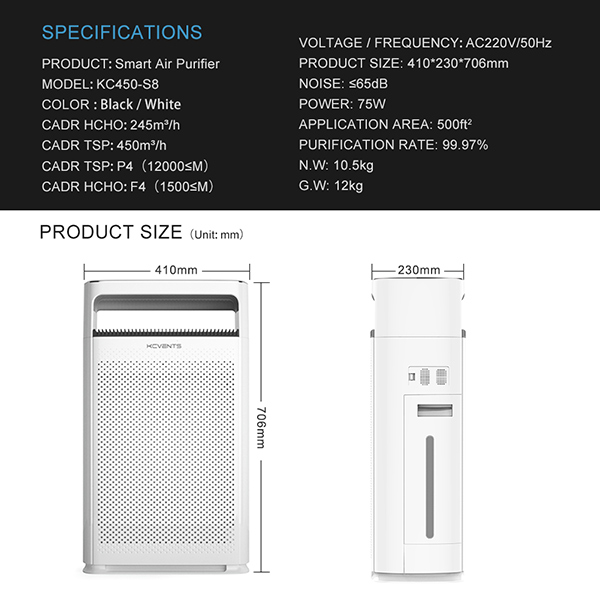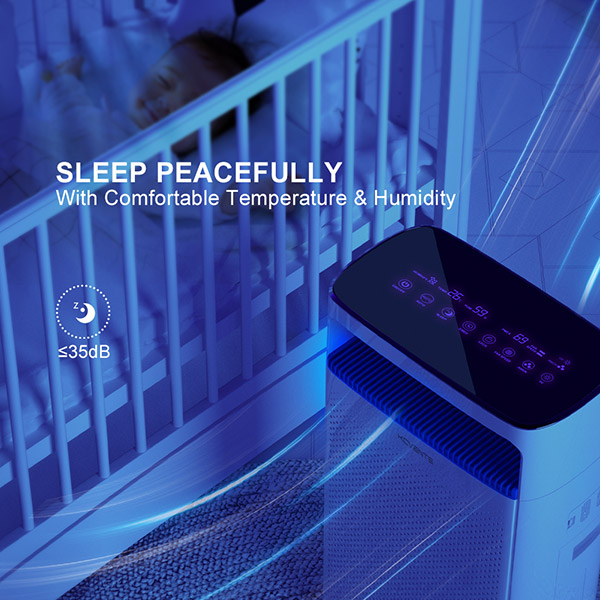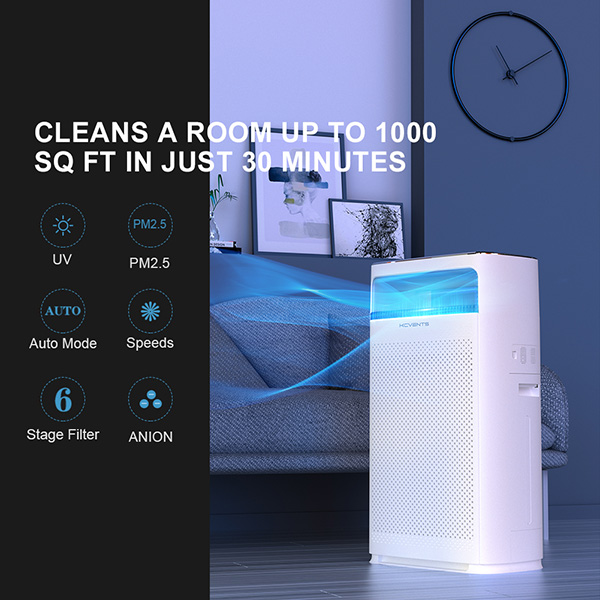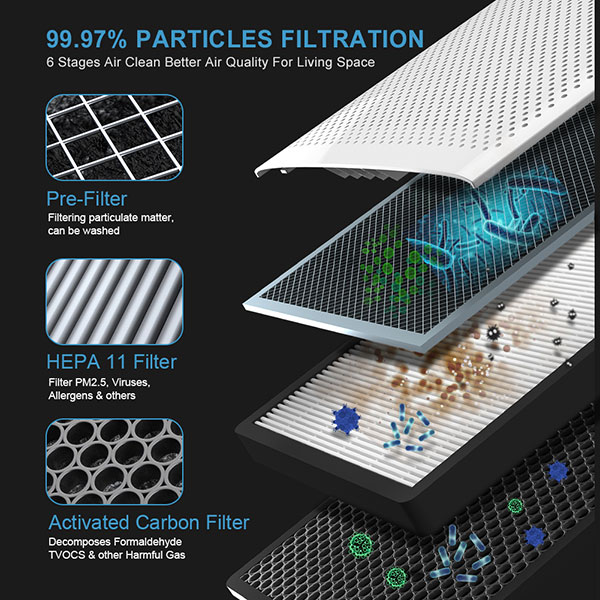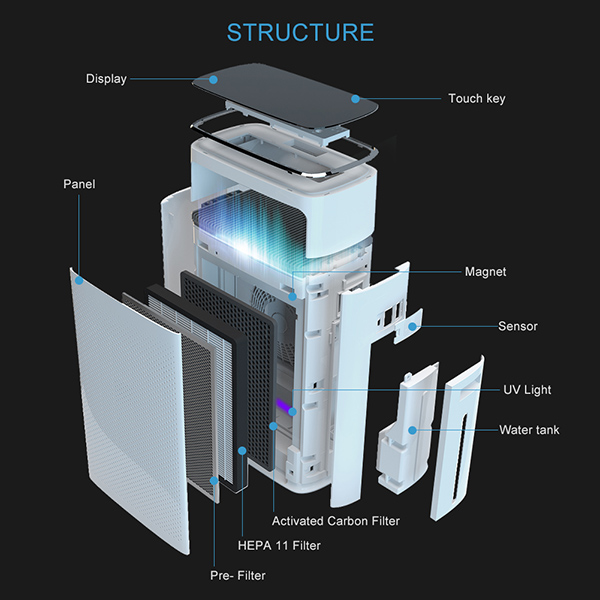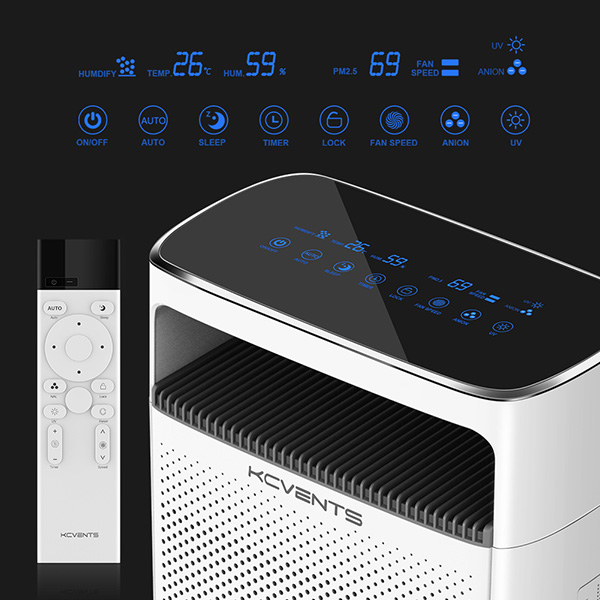 KC450-S8 Humidify Air Purifier
---
True HEPA filter captures 99.97% of airborne pollutants; dust mites, pet dander, pollen and other allergens as small aas 0.3 microns.
Washable AOC Carbon Filter, made from activated carbon granulars for removal of household odors. Decibels 27.8 dB.
Permanent filter to safely break down odor, allergens, chemical vapors and other pollutants with no harmful ozone.
Smart Sensors gauge the air and our Auto Mode adjusts the fan to filter the air as needed; with a sleep mode for silent night time operation.
CADR rated for 360 square feet room size. Suitable for medium and large rooms; kids bedrooms, family rooms and kitchens
This unit is best used for medium to large living spaces, kitchens, or bedrooms. The S8 Air Purifier uses a 3-stage air cleaning system, featuring a Pre-filter, a Washable AOC (Advanced Odor Control) Carbon Filter, 99.97 % efficient True HEPA filter. Features: 360 sq. ft. room size, VOC Smart Sensor, air quality visual indicator, light sensor, auto & sleep mode, remote control, AHAM CADR (Clean Air Delivery Rate) certified, Wattage - 75 W  
| | |
| --- | --- |
| Model |  KC450-S8 |
| Weight | 12KGS |
| Size | 41 x 23 x 71 CM |
| Power | 75W |
| CADR | 450m3/h |
| CCM | High Efficiency |
| Control | Remote Control / Screen Touch |
| Noise | 65dB |
Feature
* True HEPA filter captures 99.97% of airborne pollutants; dust mites, pet dander, pollen and other allergens as small as 0.3 microns * Washable AOC Carbon Filter, made from activated carbon granulars for removal of household odors. Decibels 27.8 dB * PlasmaWave acts as a permanent filter to safely break down odor, allergens, chemical vapors and other pollutants with no harmful ozone * Smart Sensors gauge the air and our Auto Mode adjusts the fan to filter the air as needed; with a sleep mode for silent night time operation * CADR rated for 360 square feet room size. Suitable for medium and large rooms; kids bedrooms, family rooms and kitchens
3 Stage  8 level Air Purification
1. AOC (Advanced Odor Control) Carbon Filter - Reduces VOCs and household odors from cooking, pets, and smoke. It is designed to catch airborne particles found indoors, which also helps prolong the True HEPA Filter life.
2. True HEPA Filter- Captures 99.97%* of airborne allergens including; pollen, mold spores, dust, pet dander, microbes, and smoke (particles as small as 0.3 microns in size).
3. Pre-filter
4. UV Lamp
5. Nagetive Ionizer used to improve the quality of the air in a room.
---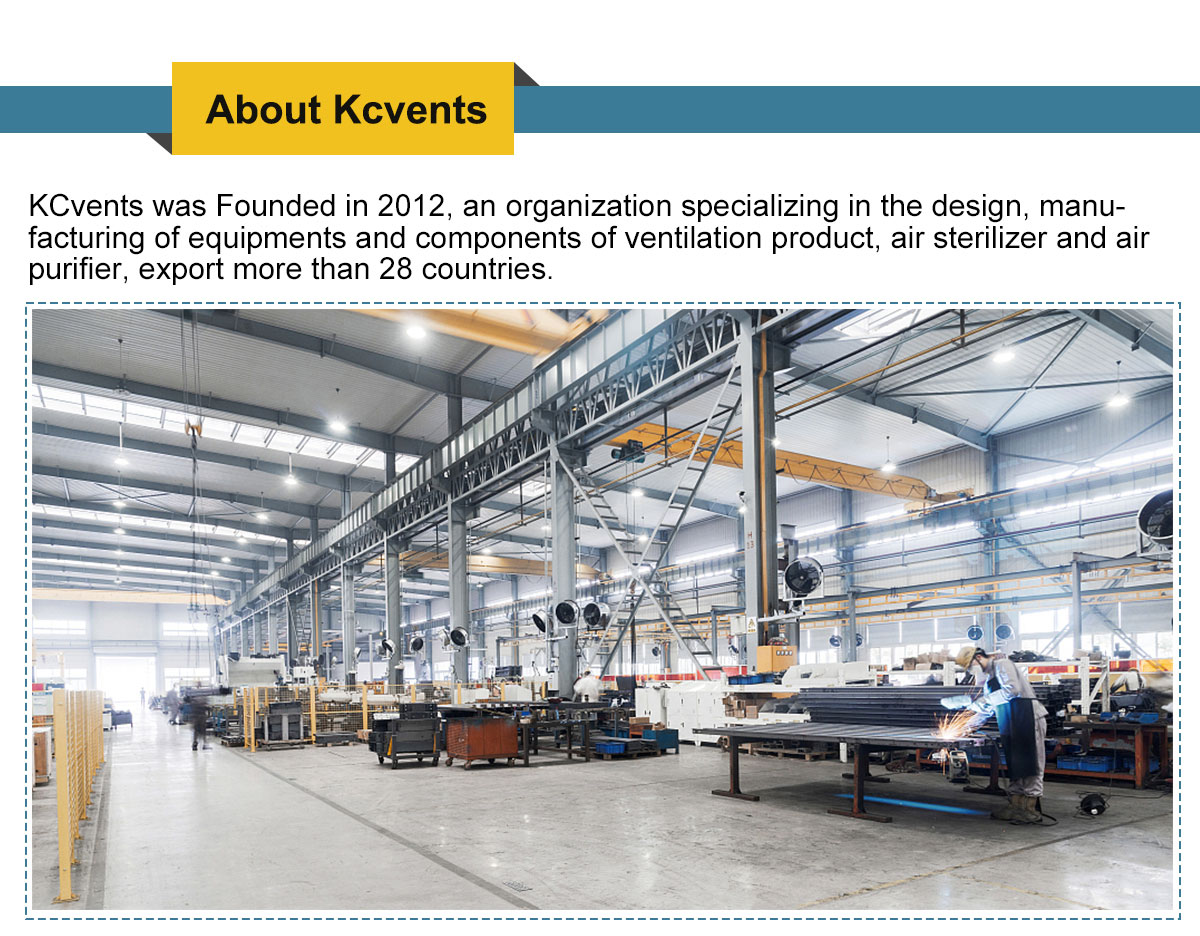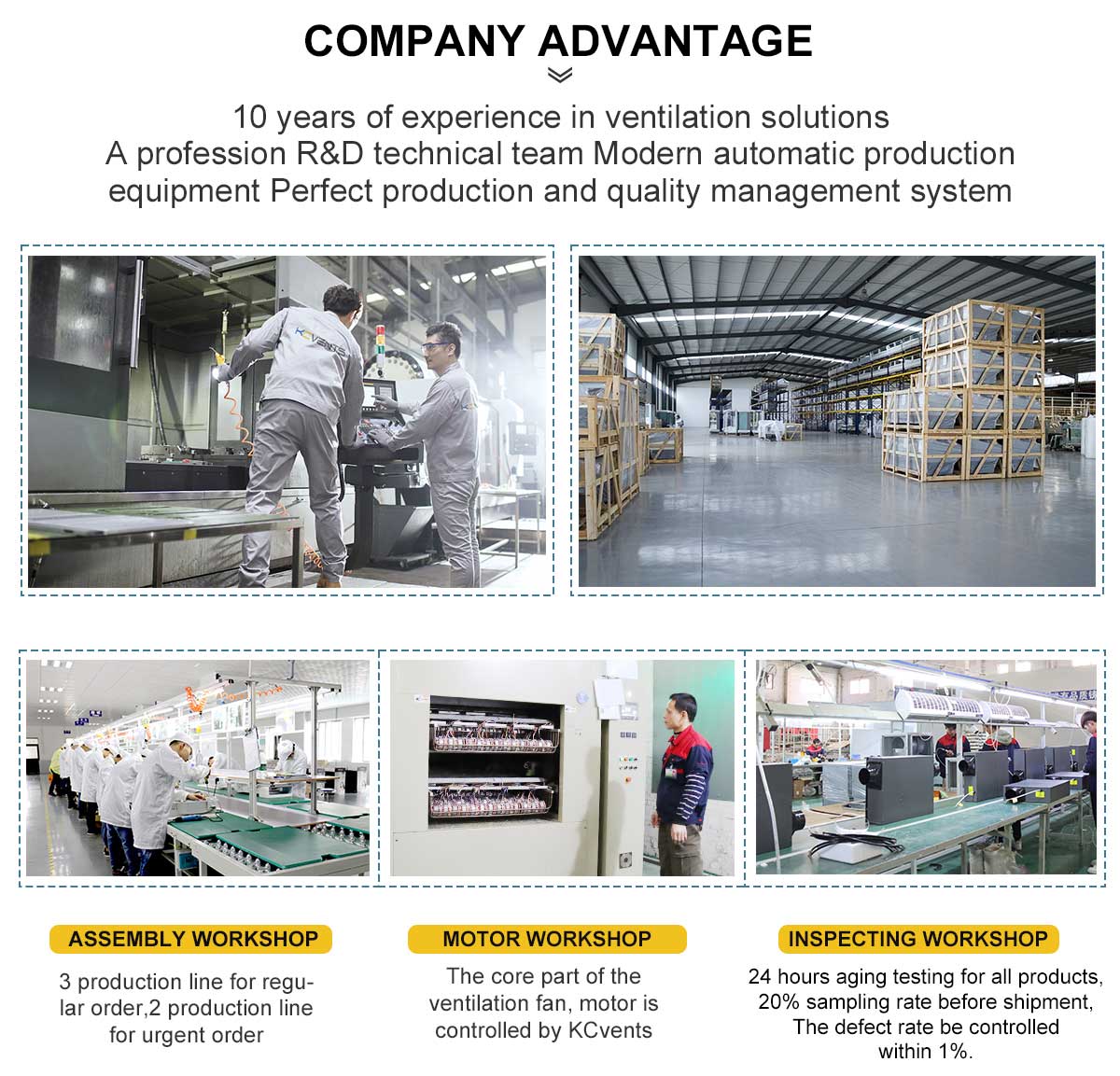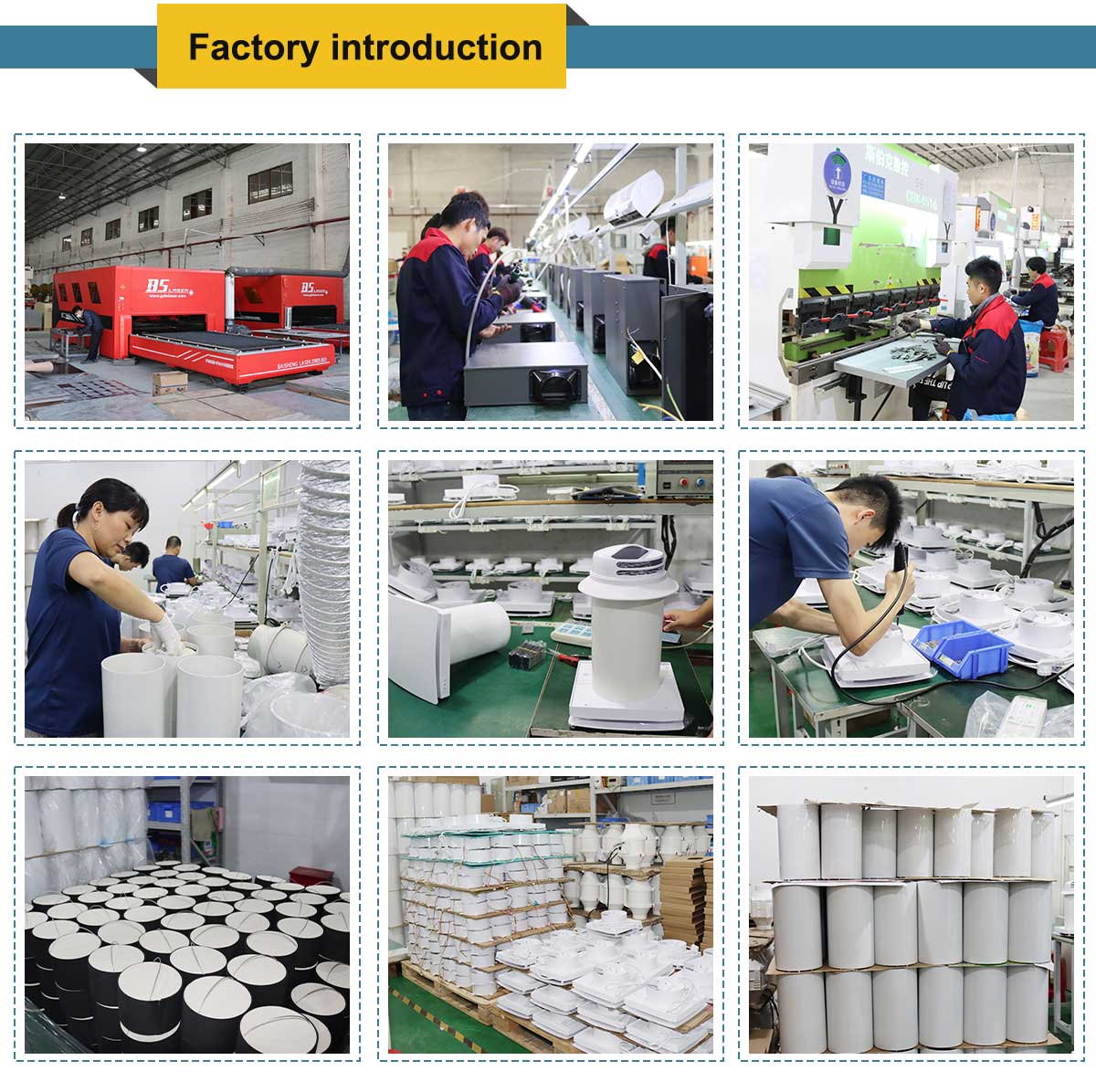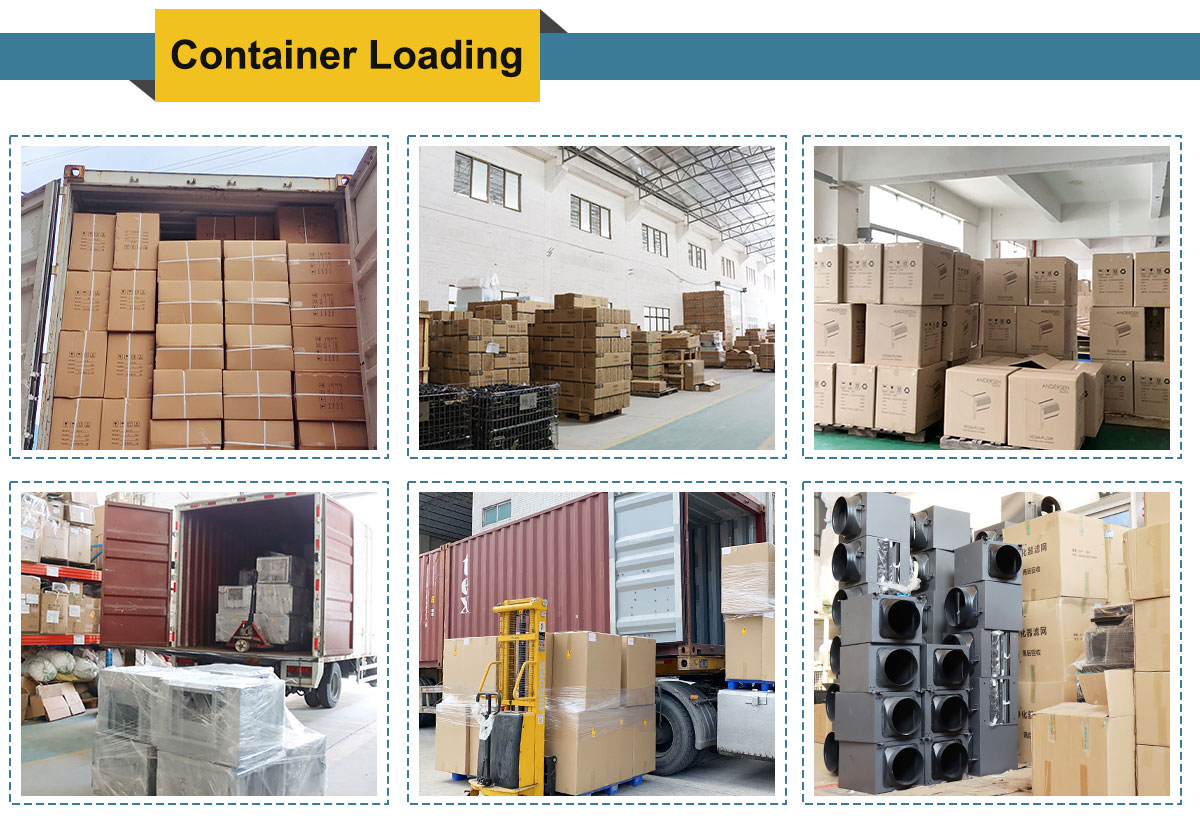 ---
To better ensure the safety of your goods, professional, environmentally friendly, convenient and efficient packaging services will be provided. EOM acceptable.
KCVENTS has a large experience designing and producing air curtains,air handling units, fan boxes, fan filter units, axial fans, centrifugal fans, mixed flow fans and other special and OEM equipment. We export our products to more than 45 countries worldwide. Loyal to our commitments regarding our customers, our products fulfill the highest standards of quality criteria. We are proud of our highly qualified team composed by master engineers, designers, specialized technicians and skilled professionals, ready to assist you in any questions you may have in design, installation or service maintenance requirements. Air curtains market leading Ventilation product leading Producing +7 years Exporting +45 countries Experimented R+D+i Continuous improving Complete range, all applications University knowledge collabora.