Scientists say portable air purifier with HEPA filtration can remove virus particles that cause Covid-19

KCvents Portable HEPA(high efficiency particulate air) rated air filters remove more than 99 % of airborne particles regardless of the particle size. You can find a list of verified units here. You will also want to make sure the clean air delivery rate(CADR) matches or exceeds the square footage of the room you are trying to clean.

The KCvents S8 Air Cleaner; designed for any home environment and ready to capture dust, pollen, pet dander, smoke, mold spores, VOC (volatile organic compounds) and household odors. With a CADR (Clean Air Delivery Rate) rating from AHAM (Association of Home Appliance Manufacturers),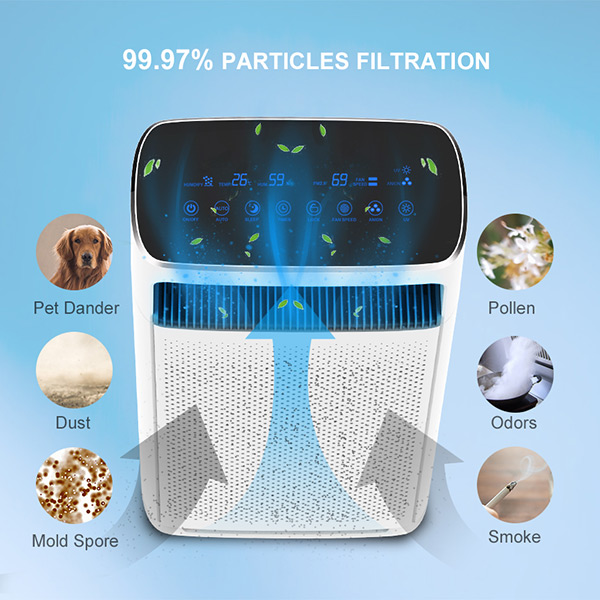 KCvents S8 Air Purifier
| | |
| --- | --- |
| Model | KC450-S8 |
| Weight | 12KGS |
| Size | 41 x 23 x 71 CM |
| Power | 75W |
| CADR | 450m3/h |
| CCM | High Efficiency |
| Control | Remote Control / Screen Touch |
| Noise | <65dB |
| Usable Area | 100-300m3 |
This unit is best used for medium to large living spaces, kitchens, or bedrooms. The S8 Air Purifier uses a 3-stage air cleaning system, featuring a Pre-filter, a Washable AOC (Advanced Odor Control) Carbon Filter, 99.97 % efficient True HEPA filter. Features: 360 sq. ft. room size, VOC Smart Sensor, air quality visual indicator, light sensor, auto & sleep mode, remote control, AHAM CADR (Clean Air Delivery Rate) certified, Wattage – 75 W

Feature
* True HEPA filter captures 99.97% of airborne pollutants; dust mites, pet dander, pollen and other allergens as small as 0.3 microns
* Washable AOC Carbon Filter, made from activated carbon granulars for removal of household odors. Decibels 27.8 dB
* Smart Sensors gauge the air and our Auto Mode adjusts the fan to filter the air as needed; with a sleep mode for silent night time operation
* CADR rated for 360 square feet room size. Suitable for medium and large rooms; kids bedrooms, family rooms and kitchens
3 Stage 8 level Air Purification
1. AOC (Advanced Odor Control) Carbon Filter – Reduces VOCs and household odors from cooking, pets, and smoke. It is designed to catch airborne particles found indoors, which also helps prolong the True HEPA Filter life.
2. True HEPA Filter- Captures 99.97%* of airborne allergens including; pollen, mold spores, dust, pet dander, microbes, and smoke (particles as small as 0.3 microns in size).
3. Pre-filter
4. UV Lamp
5. Nagetive Ionizer used to improve the quality of the air in a room.